PRAYER: Lord give us the faith to accomplish the miracles that you have for our lives.
VERSE OF THE DAY: James 2:17
Having faith can be a challenge. You are some how required to believe in something that you can't physically see. We think that having faith is too hard or too difficult but believe it or not you do it faithfully every day. Yet we fail to realize that we have faith in things we can't see. For example, you had faith that your car would start this morning or you may have had faith that your boss was going to cut you your check when pay day comes. You have faith in paying your bills on time if you are on automatic bill pay. You technically don't know the future but you trust that the future is going to work out right in your favor. Nine times out of ten it works wonders. It is exactly in alignment with how you planned it.
So why is it that when we are sick in our bodies or when we need a breakthrough we doubt the power of God? Has he not showed himself strong in taking care of you in the previous weeks? But wait a minute! There is a missing piece to the puzzle. If you don't keep up with the proper maintenance of your car or put gas in your car then more than likely there is a chance your car will not start. If you don't go to work and punch in on the time clock there is a chance that your boss is not going to pay you.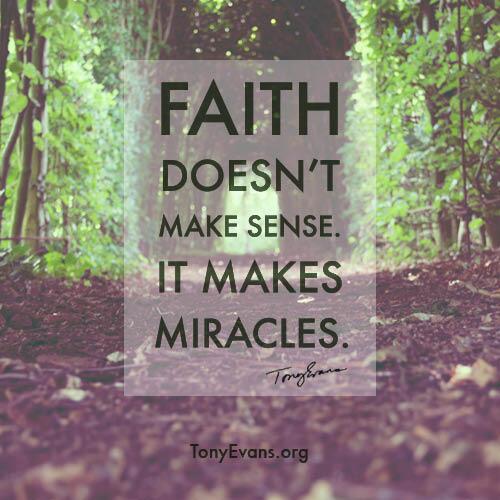 So as you can see "Faith without works is dead" (James 2:17). It is imperative that you do your part in order for faith to work on your behalf. When you have faith and do absolutely nothing that is called a miracle. The beauty about faith and miracles is that God is still in the business of working both, if you just believe that He can do it. So I encourage you today to step out on faith. Know that your miracle is on the way and believe that God can do it just for you. God loves you and He desires the best for you but it takes a little work on your end as well, if nothing more than just believing that it's already done.
Copyright © 2016 EPIPHANY ENCOUNTER. All Rights Reserved.